For all press-related inquiries, please contact:
Amy Watanabe
Nakatomi & Associates
amy@nakatomipr.com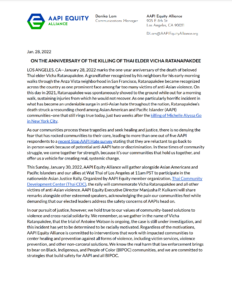 atanapakdee. A grandfather recognized by his neighbors for his early morning walks through the Anza Vista neighborhood in San Francisco, Ratanapakdee became recognized across the country as one prominent face among far too many victims of anti-Asian violence. On this day in 2021, Ratanapakdee was spontaneously shoved to the ground while out for a morning walk, sustaining injuries from which he would not recover. As one particularly horrific incident in what has become an undeniable surge in anti-Asian hate throughout the nation, Ratanapakdee's death struck a resounding chord among Asian American and Pacific Islander (AAPI) communities–one that still rings true today, just two weeks after the killing of Michelle Alyssa Go in New York City.
Dear friends,
This time last year, our friends and neighbors in LA County and across the country were reeling from a wave of brutal attacks involving Asian Americans and Pacific Islanders. We are still reeling. Today, AAPI communities continue to experience harm in the form of violence, economic hardship, and the effects of racial trauma.
Read More »