For all press-related inquiries, please contact: info@aapiequityalliance.org 
Stop AAPI Hate: We support ending gun violence, but we are not usually part of the policy conversations. AAPI organizations are uniting to advocate for action.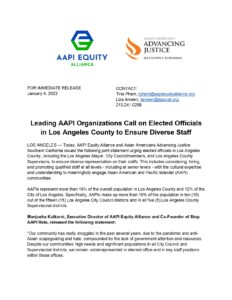 Today, AAPI Equity Alliance and Asian Americans Advancing Justice Southern California issued the following joint statement urging elected officials in Los Angeles County, including the Los Angeles Mayor, City Councilmembers, and Los Angeles County Supervisors, to ensure diverse representation on their staffs.
Happy New Year! We are excited to announce two new initiatives to strengthen AAPI representation and influence in local government.
Read More »